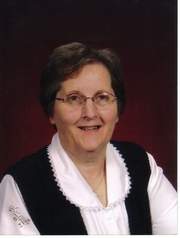 Grace Martin (Hostetter) Weaver, 72, wife of Robert "George" Weaver of 145 Penrose Lane, passed away Saturday, Jan. 17, 2009, in Loyalton of Staunton, where she had been a resident since late August. Mrs. Weaver was born Dec. 28, 1936, in Lancaster County, Pa., a daughter of the late Isaac Eby and Ruth (Martin) Hostetter.
She was retired from the Staunton public school system, and volunteered with the Virginia Mennonite Relief Sale, where she was the chairperson of the food committee from 1976 to 1978 and the sewing committee in 1984. Grace and her husband attended Staunton Mennonite Church for more than 30 years and are presently members of Springdale Mennonite Church in Waynesboro. Mrs. Weaver also enjoyed gardening, sewing and baking cookies, which she was so well-known for.
In addition to her parents, she was preceded in death by a brother-in-law, Edgar Clemens, and a sister-in-law, Elizabeth Hostetter. Surviving, in addition to her husband, to whom she was married Nov. 28, 1964, are a son and daughter-in-law, Steven E. Weaver and Silvia Banales of Barnesville, Md.; a daughter and son-in-law, Jennifer R. Weaver and Paul S. Novotny of Staunton; eight brothers and six sisters-in-law, Dr. Abram Hostetter and wife, Patricia, of Charlottesville, Isaac Hostetter of Kirkwood, Pa., James Hostetter and wife, Patricia, of McVeytown, Pa., Milton Hostetter and wife, Barbara, of Stoney Brook, N.Y., Dr. Charles Hostetter of San Francisco, Calif., Dr. Ray Hostetter and wife, Jane, of Hopewell, N.J., Dale Hostetter and wife, Mae, of Fogelsville, Pa., and Sanford Hostetter and wife, Tera Yoder, of Richmond; three sisters and a brother-in-law, Rhoda Clemens of New Holland, Pa., Mary Alice Hostetter and companion, Terry Coffey, of Charlottesville and Nancy Gourley and husband, Gerald, of Ashburn; and a very special grandson, Dylan Lance Weaver.
The family had a private entombment in Augusta Memorial Park in Fishersville.
A memorial service celebrating Mrs. Weaver's life was conducted at 11 a.m. Saturday, Jan. 24, 2009, at Springdale Mennonite Church by Pastor Mark R. Schloneger.
The family received friends from 6:30 until 8:30 p.m. Friday evening at Springdale Mennonite Church and immediately following the memorial service on Saturday or at other times at her residence.
It was suggested that those desiring make memorial contributions to the Alzheimer's Foundation, Harrisonburg Chapter, P.O. Box 310, Harrisonburg, VA 22803; to Susan Komen Breast Cancer Foundation, 200 E. Joppa Road, Ste. 407, Towson, MD 21286; or to Hospice of the Piedmont, 675 Peter Jefferson Parkway, Ste. 300, Charlottesville, VA 22911.
Coffman Funeral Home and Crematory at 230 Frontier Drive in Staunton was in charge of the arrangements.