James Richard Echard
October 24, 1930 - August 13, 2011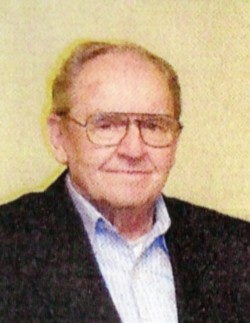 Mr. James Richard Echard, 80, formerly of 508 B Street, died at 2:30 a.m. on Saturday (August 13, 2011) in Emeritus of Staunton. He was preceded in death by his wife, Frances Elizabeth (Nuckoles) Echard on July 5, 2005.
He was born October 24, 1930 in Staunton, son of the late Wallace and Neta (Brown) Echard.
Mr. Echard was a veteran of the National Guard. As able, he faithfully attended Staunton Mennonite Church.
Before retiring, he had worked at Staunton Creamery and HUDD.
In addition to his wife to whom he was married on January 27, 1957, and his parents, he was preceded in death by his step-mother, Elizabeth E. Echard; a brother, John Bell Echard; and two sisters, Elizabeth Virginia Echard and Evelyn Echard Shull Britley.
He is survived by special friends, Daniel and Frances Weaver of Verona. A graveside service was conducted at 11:00 a.m. on Friday (August 19, 2011) in Thornrose Cemetery by the Rev. Kevin Gasser.
Henry Funeral Home is in charge of arrangements.
Special thanks is extended to Hospice of the Shenandoah for their recent loving care.
Memorials may be made to Hospice of the Shenandoah, P. O. Box 215, Fishersville, VA 22939 or to Gideonís International, Augusta North Camp 4502.2, P. O. Box 2711, Staunton, VA 24402.